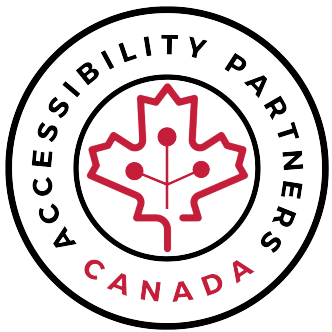 Our Diversity, Accessibility, Inclusion and Respect (DAIR) policy and statement
Canada's accessibility experts.
Accessibility Partners Canada is committed to the idea that all people have the right to full participation in Canadian society, including access to employment, services, and public spaces. Accessibility Partners Canada is a minority-owned business, and our team of accessibility experts includes persons with disabilities. We recognize the value of the diverse experiences of each of the members of our team in providing our clients with solutions that address the diverse needs of all Canadians, and this is reflected in our hiring and business practices.
Our leadership is committed and accountable to our Diversity, Accessibility, Inclusion and Respect (DAIR) policy and statement, which are established to ensure a fully inclusive and respectful workplace environment. In DAIR, we stand for the following:
Diversity
The range of visible and invisible qualities, experiences and identities that shape who we are, how we think and how we engage with and are perceived by the world. These can be along the dimensions of race, ethnicity, gender, sexual orientation, socio-economic status, age, physical or mental abilities, religious/spiritual beliefs, or political ideologies. They can also include differences such as personality, style, capabilities, and thoughts/perspectives.
Accessibility
Ensuring that people of all abilities have equitable and barrier-free access to physical spaces, products, programs, and services, as well as employment opportunities.
Inclusion
Recognizing, welcoming, and making positive space for diversity. An inclusive workplace environment capitalizes on the diversity of thoughts, experiences, skills, and talents of all of our colleagues.
Respect
A respectful workplace environment is one that values diversity and inclusion, dignity, courteous conduct, fairness, positive communication, and professional relationships. A respectful social environment is inclusive, diverse, equitable, accessible, and free from any form of harassment and discrimination.